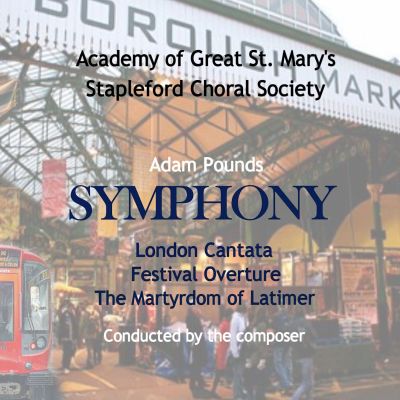 Symphony
Performed by Academy of Great St. Marys and Stapleford Choral Society
As a Londoner, Adam Pounds has always been fascinated by the city's history and life and after the composition of his London Festival Overture for the Waltham Forest Arts Festival (commissioned by Greater London Arts), it was only a matter of time before he would set some London poetry to music. Symphony was especially composed for the combined forces of the Academy of Great St. Mary's and the Stapleford Choral Society.
The work is scored for a standard symphony orchestra, S.A.T.B. choir and a baritone soloist. The piece opens in celebratory mood setting the words of William Dunbar a 16th century poet and the music has traces of Walton's influence in it. However, it isn't long before the music turns to a more reflective mood and we hear the words of George Eliot's In a London Drawing Room. This really explains the idea behind the work in that we scratch the polished veneer of the great city and we find a vast array of lifestyle, history opulence and poverty.
The solo baritone conveys the loneliness that can be experienced even in a crowded environment and he plays his part as the ghost in Shadwell Stairs by Wilfred Owen and also features in Upon Westminster Bridge by William Wordsworth. There is also a 'Docker's song' where the words 'dirt and grime' are given a brutal, mechanical treatment. Between the Wordsworth and the Owen, Adam has inserted a short orchestral interlude. The theme of this is based on the famous Westminster Chimes. This is appropriate as the chimes although strongly associated with London were composed in 1793 for a new clock that was installed in Great St. Mary's, Cambridge. The piece concludes with the words of the Amy Levy who was the first Jewish woman to study at Cambridge University. Her evocative poem A March Day in London provides some beautiful descriptive lines.
Pounds' essay is characterised by interest, excellent orchestration and traditional form. It is well-played on this recording by the Academy of Great St Mary's conducted by the composer.

— John France, Musicweb International
Symphony (CR006) is available from: