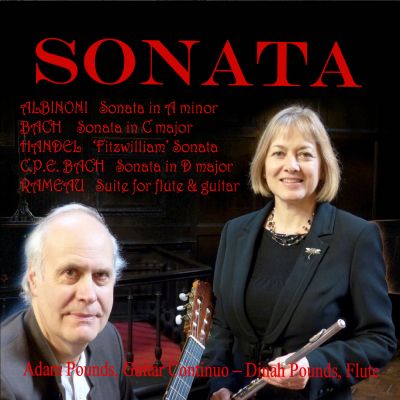 Sonata
Dinah and Adam Pounds have been giving recitals for many years both in Cambridge and London and in particular at St. Bride's, Fleet Street where they have made regular appearances.
At a time when authenticity is celebrated by the proliferation of early music groups that pursue performance convention and ancient instrument construction, Dinah and Adam have concentrated on the aesthetics of the music by giving instinctive performances. These have been linked to the historical context of the composers but as they are performed on modern instruments and all the music is arranged there is scope for creative performance.
This CD contains many pieces where no dynamic markings would have been given and the tempos are loose. As we have no recordings from this period, it is impossible to know exactly what was intended and indeed Baroque music has been subjected to much interpretation over the years with full blown Victorian performances where the size of the orchestra would have been unknown to Bach and his contemporaries and romanticised arrangements of those such as Elgar and Stokowski.
The performers hope that the music on this recording connects favourably with the listener. The combination of the flute and guitar has been described as enchanting and beautiful and it is a combination that is very much at home with the music of the Baroque period.
John France has reviewed the disc for the MusicWeb International website.

The playing is excellent, and the repertoire is well chosen.