January 2019 news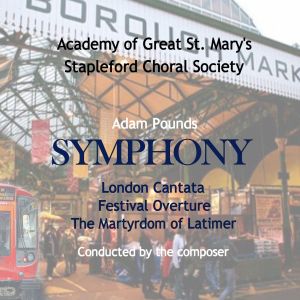 2018 was an eventful year. In September I recorded both my London Cantata and my first Symphony. The latter work was composed in 1985 and I have revised the work twice. The present version is now available on my latest disc and as a download from all the usual outlets.
I am now working on my second symphony and as I write, I can confirm that the first movement is complete. This is a very rhythmic movement full of driving motifs and opportunities for the different sections of the orchestra to excel. To this end, it contains little in the way of solos but concentrates on the families of instruments. However, the slow movement will feature a solo saxophone.
Iíve conducted a number of concerts during the year. The Stapleford Choral Society continues to develop and this term we will be performing Haydnís Heiligemesse on Saturday 23rd March.
The Academy of Great St. Maryís has also had an interesting and varied year. In September, we performed the Divertimento by Lennox Berkeley as part of our programme. This is an excellent piece in four movements and I have written an article about this work which is being published in the Lennox Berkeley Society Journal. It will then be available on my website.
My next concert with the Academy of Great St. Maryís is on Saturday 16th February 2019 and will feature Beethovenís second symphony and the ĎPulcinellaí suite by Stravinsky.

Poundsí essay is characterised by interest, excellent orchestration and traditional form. It is well-played on this recording by the Academy of Great St Maryís conducted by the composer.

— John France, Musicweb International. You can read the full review of my latest disc on Music Web International.