Premiere performance of Symphony No. 2 and YouTube release
October 2019 news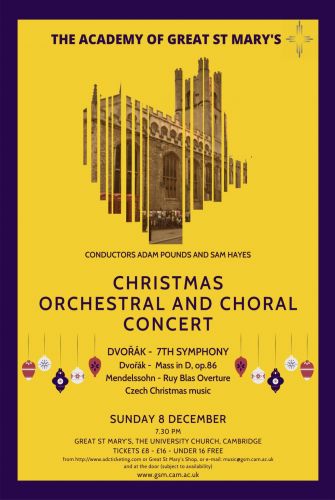 September was a very eventful month. The first performance of my second symphony took place at Great St. Mary's Church, Cambridge to a capacity audience. I'm pleased to report that it went down very well with public and performers alike. The first movement represents the hustle-and-bustle of city life (I moved back into the city two years ago). You can watch the first movement being performed in the church.
The second movement is a 'Nocturne' but again alludes to city rather than a pastoral environment. This is followed by relentless 'Tarantella' and the finale is both celebratory and 'driven' in its style. I have plans to make a good recording of this new work together with my Sinfonietta which was an early attempt at symphonic style.
You can read a review of Symphony No. 2 by John France on his Land of Lost Content blog.
The whole of Symphony No. 2 has been recorded and released on my YouTube channel:
Chloe Hanslip starred as our concerto soloist in the third violin concerto by Mozart. She gave a beautiful performance and it was a real pleasure working with her. This was third time that Chloe had worked with us and there are plans for her to return in 2021.
Leading up to the concert, I was interviewed by Cambridge 105 radio and you can listen to the interview here.
As you can see, I have another concert on the 8 December. Dinah and I performed a lunchtime recital (flute and guitar) at St. Bride's, Fleet Street on the 19th November.