May 2022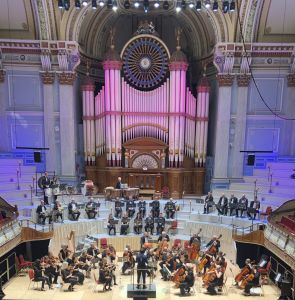 Earlier in the month, I had the great pleasure of attending a performance of my Northern Picture given by the excellent Huddersfield Philharmonic Orchestra and conducted by Robert Guy.
The 'Phil played very well in a concert that also included a notable performance of The Sea by Frank Bridge. The Northern Picture was brilliantly played and very well received by audience and players alike and I have been invited back to collaborate further with the orchestra.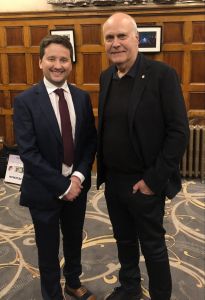 The whole project came about as the principal horn, Bob Shaw, is a colleague who used to play for me in the Nelson Orchestra in Waltham Forest. I really enjoyed my visit to Huddersfield and I am grateful for the kind words and hospitality given by the orchestra.
Arrangements for the recording of my new work, the 3rd Symphony are developing at a pace. The recording will take place in November 2022 and will be recorded by John Wilson and the Sinfonia of London for Chandos Records. I am incredibly excited about this as the Sinfonia of London and John Wilson have a tremendous reputation for brilliant performances and in particular their beautiful and compelling string sound.
One of the other works on the disc will be the Divertimento in Bb by my teacher, Sir Lennox Berkeley. This is a fine work and you can read more about it in my article Strange Beauty that I wrote for the Lennox Berkeley Journal.